The R2 robots are ready to go to work in multiple industries
Learn how R2 Robots can help you grasp the competitive edge
Route Planning
By combining inputs from sensors, cameras and LiDARs, we can precisely detect R2 robot position on the Environment map and calculate shortest, safest pathways between Workspaces.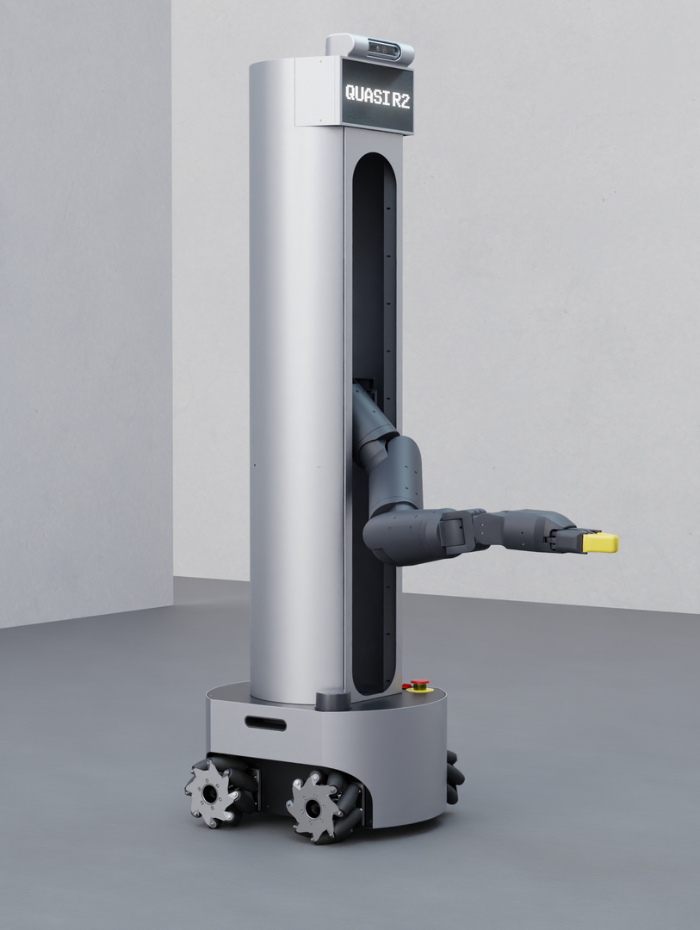 Robotic Arm
R2 can serve many functions and can be equipped with custom end-of-arm attachments, grippers, and effectors to be able to fulfill a wide variety of Tasks.
The robotic arm is attached to a car that travels vertically inside the R2 robot, allowing reaching objects from the ground level up all the way to six feet (1.8m).
Options: Heavy Duty or Precision
Degrees of Freedom: Eight
Control: Quasi AI Motion Planning, Grasp Detection
Gripper: Interchangeable, with pressure sensors
Lift Capability: Up to 6lb (2,7kg)
Arm Reach: From floor level to 6 feet (1.8 m)
Storage: When not in use, the arm neatly folds inside the robot
Smart Charging
Charging robots without interruptions to productivity was one of the most challenging tasks we have solved while working on R2 Robot and Quasi AI software.
We have started with the best high-capacity battery available – advanced NMC (Nickle Manganese Cobalt Oxide) Li-ion Chemistry which is superior to traditional Li-ion Batteries.

We have added an automatic battery protection module – a built-in battery management system (BMS) that keeps the battery running at peak performance and protects the cells for thousands of cycles, including over-charge, over-discharge, over-current, and short-circuit protection.
We've designed our own Charging Stations – a compact docking station design that enables a place for R2 robots to "rest" and recharge. Fast charging enables charging up to 50% of the battery capacity in under 1 hour.
Our Quasi AI software both in the Cloud and onboard each robot, constantly monitors battery states in the entire robotic fleet and assigns new Tasks based on the best suitable robot available. Quasi AI automatically sends the R2 robot to its preferred Charging Station or the nearest available one and charges the battery based on the size of the Tasks queue, electricity cost and Task priorities.
All Charging Events, battery status, and electricity consumed is stored in a read-only permanent Audit Logs and available in dashboards and reports.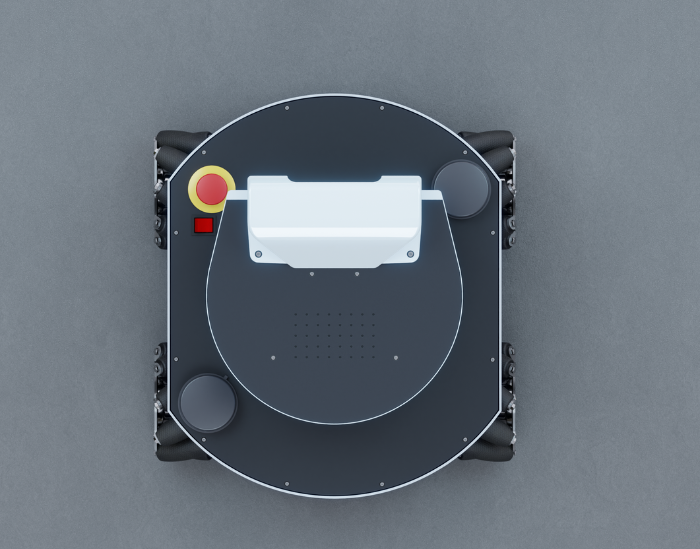 Integrations
The R2 Robotic Platform provides reliable automation that integrates with the broadest mix of Enterprise systems for many standard workflows and processes.
The R2 robots are ready to go to work in multiple industries, designed for easy integration with standard APIs, documentation, and the flexibility to handle different workflows and workspaces.
Cloud Connect software product integrates with a wide range of commercial and in-house developed software systems, like ERP, LIMS, LIS, and other systems to automate your entire or parts of your workflows.
We support integrations via the industries most common interfaces, including gRPC, Enterprise Message Bus, AWS SQS/SMS and others.