Overview
Cloud Connect is our centralized service for our clients to configure and operate a fleet of robots from anywhere in the world.
The most common features include easy Task assignments, standard Task Templates, and a full suite of performance dashboards, reports, and audit records.
Dashboards
Monitor every aspect of an individual robot or a fleet of robots. Charts include daily, weekly, monthly, quarterly, and yearly displays of the most relevant characteristics of robotic operations.
Tasks Monitoring – Instantly see trends in robot performance for all completed, failed or pending tasks.
Time Allocations – 

Task statistics and how much time was spent

 working

,

charging

,

or idling.

Other – Many additional dashboards to see the frequency of charging events, traveled distances and scheduled and unscheduled maintenance requests.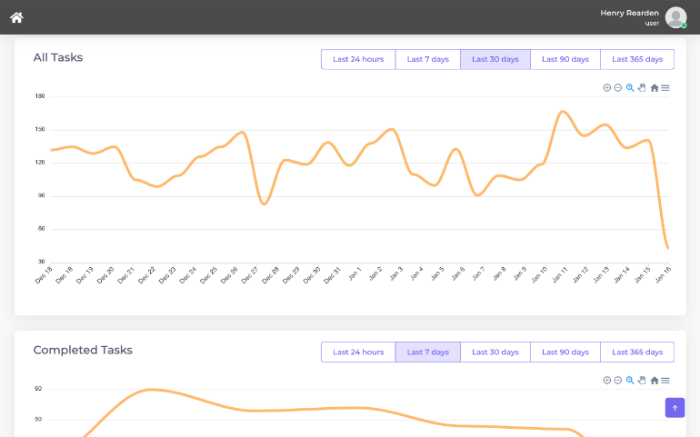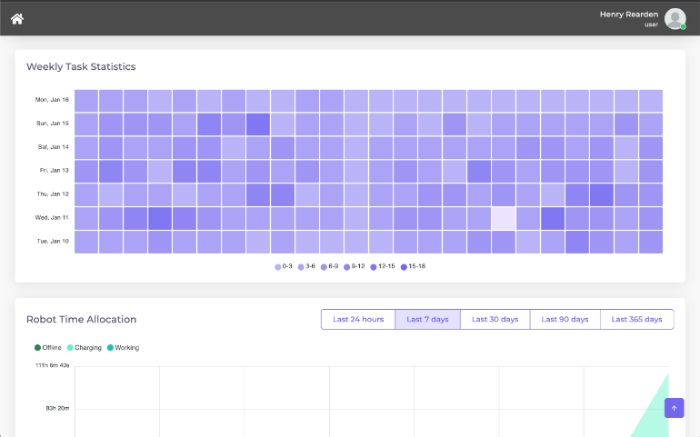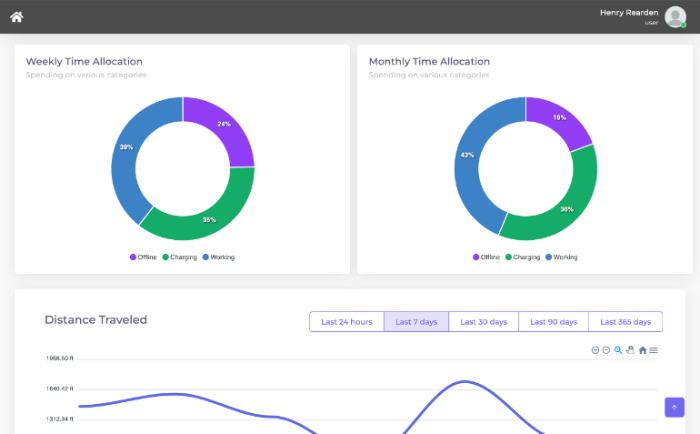 Task Templates
Save most common Tasks as a template for fast scheduling of new work. All it takes is a few clicks to create a new work assignment.
Go further with our wireless Smart Button accessory – create new Tasks from templates with a simple click of a button.
More Details
Reporting
A variety of Productivity and Utilization reports are available to export current and historical data into popular CSV or Excel formats. Cloud Connect offers reports for all aspects of the robot lifecycle - Tasks, Movements, Charging, Productivity Report and Maintenance Report:

Cost Module
Part of Cloud Connect reporting is a Cost Module, allowing precise cost calculations of every aspect of owning R2 robots.
Are you getting the most out of your machines?

Is your investment in robotics genuinely paying off?
We track and calculate the cost of charging, the cost of traveled distance, the cost of scheduled and unscheduled maintenance, plus the cost and benefits of performing a single task or series of workflows.
Audits
Access various historical audit records for full traceability and regulatory compliance.